Are You 100% Confident You Have The Expertise To Successfully Navigate Your Way Through The Business Buying Process?
Unless you have a lot of experience buying businesses, and no matter how smart you are, nothing you have ever done has completely prepared you for this process. It takes expertise to buy a good business at a great price and failing to educate yourself first is a huge mistake.
There's no middle ground when buying a business. When you buy a good one the rewards will be incredible, but, if you buy the wrong one, the results will be disastrous. You will face a financial mess that can take years, if ever, to recover.
If you're going to buy a business, the old expression - "If you fail to prepare then be prepared to fail" - is so true.
Before you invest your savings to buy a business, shouldn't you first learn how to buy the right one?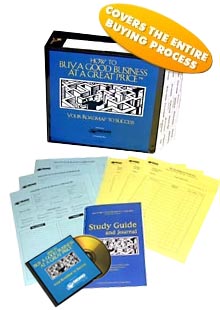 Everything You Must Know
Before You Buy A Business.
How To Buy A Good Business At A Great Price© is "the mostly widely used strategy guide for buying a business." This is not a simple generic introductory book on the subject. It combines critical knowledge and proven strategies for each stage of the process and every situation you'll encounter, along with expert ongoing consulting.
If you're serious about buying a business, and especially if you've never bought one before, you've arrived at this website because you want to have the right information and access to unbiased, expert advice to make the right decision.
How To Buy A Good Business At A Great Price© is based upon countless business investigations and successful transactions in every field including manufacturing, retail, a huge array of service sector companies, the food industry and wholesale and distribution businesses.
The material contains over 500 pages of easy to follow strategies, legal agreements, interactive resources, sample letters, case studies, financial spreadsheets, worksheets, and business plan templates.
Written by renowned expert Richard Parker, who has personally purchased thirteen businesses and is recognized as "the small business acquisition authority".
Along with the program you'll consult directly with Richard and a team of experts as often as you wish during the process.
You Also Receive Ongoing Professional Advice
To Help You At Each Step Along The Way
We don't just send you a pile of information and leave you on your own to figure it out.
Once you begin to follow our proven program, you will be automatically enrolled in our Personalized Consulting Program. With this service you will have immediate and unlimited access to a team of business buying specialists to help you with any questions, situations or challenges you encounter.
If you need some assistance or advice in reviewing a listing, formulating an offer, negotiating a certain part of the deal, investigating or valuing a particular business, reviewing the financials, or if you simply want an unbiased expert opinion about a particular situation where you're not positive what strategy to use, we will immediately provide you with our experienced input and expert assessment.
There is no cost for you to use this service and you can use it as often as you wish.
Whenever you need help, just contact us, outline the situation, and let us know if you prefer an email response or phone call. All inquiries are handled within one business day.
Detailed Course Outline - Links To Each Lesson
WHY BUY A BUSINESS AND WHAT TO CONSIDER
Personal, financial, and professional considerations you must evaluate.
THE TEN COMMANDMENTS
A ten-point test that any good business for sale must pass.
THE RIGHT BUSINESS FOR YOU
Key questions and exercises that will help you determine what type of business is right for you.
TIMING
Avoid wasting time! How to navigate your way through the maze in half the time it takes others.
WHERE TO LOOK
An examination of all the resources available to use and the best places to find what you're looking for.
GETTING ORGANIZED
Starting off properly and staying on the right path.
BUSINESS BROKERS
A complete overview of how they work. Do you need one? How to hire one that will meet your needs.
WHY EVERY BUSINESS IS FOR SALE AND HOW TO APPROACH THE ONES THAT AREN'T
The ideal business for sale may be staring you in the face.
FRANCHISES - ARE THEY FOR YOU?
They're not for everybody; how to find and buy a resale that's already successful.
WORKING WITH PROFESSIONALS
How to hire the right lawyer and accountant PLUS eleven surefire ways to save a ton on their fees.
BASIC ACCOUNTING
A straightforward and concise explanation of all accounting terms. Learn how to tear apart and interpret financial statements in one lesson.
THE SELLER AND THEIR IMPORTANCE
They can be your best ally or your worst enemy. Getting them to agree to your major points.
FOCUSING ON A TARGET
How to breakdown business for sale listings and focus your search on ones that make sense for you.
VISITING THE BUSINESS - THE KEY QUESTIONS TO ASK EVERY SELLER
Preparing for the meetings: 36 key questions you must ask and the answers you should look for.
GATHERING INFORMATION ON THE INDUSTRY AND THE COMPETITION
How to get crucial information directly from competitors and industry experts.
VALUING A BUSINESS
Use two proven and proprietary valuation models that guarantee you will never pay more than a business is worth.
NEGOTIATING AND MAKING AN OFFER
A complete breakdown of every detail to negotiate and the techniques to use for each.
EVALUATING PERSONNEL
Learn how to get full access to them and have them reveal what's really going on in the company.
FINANCING THE PURCHASE
A review of all options available to you and a strategy to negotiate great seller financing.
DUE DILIGENCE - INVESTIGATING THE BUSINESS
A 200-point checklist that will clearly teach you how to uncover everything before you buy!
PULLING THE TRIGGER
Adding it all up and making your decision.
CLOSING THE DEAL
A detailed listing of the documents needed to protect yourself and an explanation of what to look out for from the seller's attorney.
POST PURCHASE PRIORITIES
A checklist and plan for your first 90 days after taking over the business.
Our Guarantee Policy
We believe it's important for you to know the extent to which we believe in, and back up, our product.

After you receive your material, (either the hard copy, CD or download version) simply follow the techniques we've laid out, utilize our consulting service as often as you'd like, and if for any reason whatsoever, you feel that the information we have provided does not equip you with all of the knowledge and tools you'll need to buy the right business for sale, or if our program does not exceed your expectations in any way, just let us know at anytime and we'll immediately refund all of your money.
This is not a 30, 60, or 90-day guarantee. We mean anytime.
No questions asked! No fine print! No time limit!
The reason we can offer this type of guarantee is simple: when you have a program that works, there's never any fear offering people the ability to get their money back if they're not completely satisfied.
Now Available Via Immediate Electronic Download or CD:
You can now get the complete course via electronic download and save $80.00 off the printed version price.
You'll receive everything from the 500-plus page printed version.
Downloads in less than two minutes!
Includes all of the interactive resources, worksheets, and Study Guide.
This download is fully interactive.
You can save it to your computer or print it out.
No special software required
With the electronic version, you will receive a receipt for your purchase containing your link to retrieve your download immediately after you confirm your order.
With the printed or CD version, we'll ship everything to you via UPS at our expense within 48 hours. The CD product will save you $50.00 off the print version cost. Immediately after you confirm your order, you'll receive simple instructions to download the complete electronic version of the program so you can get going minutes from now while your program is en route.
All Three Versions Also Include:
Study Guide and Journal©: To track your progress, note key points to remember from each section, and log any questions you may have that you'd like to discuss with us.

Prospective Business for Sale Portfolios©: A comprehensive four-part form to use when evaluating a particular business for sale. It will help you prepare your questions, detail your notes, organize the follow-up, and do an overall evaluation of any business you may be considering.
Due Diligence Worksheets©: For the last stage of the business for sale buying process - investigating the company. This is not the time to let anything fall through the cracks! These worksheets will allow you to detail every task that needs to be completed, follow-up to be done, and general notes for this crucial stage of the buying process. A great companion tool for the 50-page section on Due Diligence.
You can place your order online through our secure server, by phone, or by mail:
Original Print Version
CD Version
Immediate
Electronic Download



$179.95


Includes FREE UPS Delivery



$129.95


Includes FREE UPS Delivery



$99.95


Includes the entire program
Click the "Buy Now" button to order through our secure server
To order by phone call 1-800-273-1527 (available anytime)
If you have any questions about our program, if you're not sure whether it's for you, or if I can help you with anything at all on the subject of buying a business, please contact me. It will be my pleasure to assist you.
Thank you for your time and I look forward to working with you.
Sincerely,



Richard Parker
Diomo Corporation - The Business Buyer Resource Center™
Note: The cost of the program may be used as a tax-deductible expense. Consult your accountant.
**********************************
"Your after sales support has been terrific and I must say that having the ability to get your ongoing expert advice has truly helped me through this process. You have really delivered great value." Robert Cori - Scotts Valley, CA
"We responded to the seller with your recommendations and they've agreed to a deal. Your publications and personal guidance have been instrumental in successfully guiding us through the transaction. We continually referred back to them and they've provided us with the confidence to control the transaction. Thanks a million." Ed Vogelsong - Flemington, NJ
"I found your course to be the best money I have spent. Your consulting support is outstanding and a complete surprise. I assumed if I send in a question it would take days to get an answer-not hours." Bill Kirch - Chicago, IL
"Your information was critical in helping me to effectively search, analyze, decide, negotiate and buy my first business here in Jacksonville. Your course was central in putting me in a position of strength to make this happen. Thanks for a great product."
Dan Marone - Orange Park, FL
"Richard, I want to thank your organization. It's good to know that someone out there is comfortable and caring enough to back up their product." Rod Elliott - Washington, DC
"I wanted to express our sincere gratitude to you in the development of your HOW TO BUY A GOOD BUSINESS. We diligently read, followed and used much of your material to complete our recent purchase of a business." Michelle Ferry- Subiaco, Western Australia
"When you read "How to Buy a Business at a Great Price" by Richard Parker, you immediately know that he has been there and done that. A no-nonsense must read for anybody who is seriously interested in acquiring a business."
Adolfo Pecchio - President & CEO - LatCapital, LLC - Caracas, Miranda, Venezuela
"I cannot remember the last time someone offered the kind of support as you have. It has been great!!" Jim Brumfield - Yelm, WA
"I bought your product about 6 months ago. For two weeks, I parked myself in a coffee shop and made notes on each chapter. I then opened the papers, contacted business brokers, and let the word out that I was looking for a company. I'm delighted to inform you that I have just completed my first day at my new office. I purchased a small independent advertising company in Singapore. Your book certainly provided a solid footing for me to pursue a dream of owning my own business in Asia. Many times during the negotiations I was tempted to walk away. So I read and re-read your chapter on pulling the trigger. At the end of the day, I just pushed through and I am happy I did. Honestly, I wouldn't have succeeded without your help. Thanks and best wishes." Marc Nicholson - CEO, Rocket-X Media -Singapore
"Dear Richard, I must say that the information you provide is priceless."
Vivienne Nicholas - London, UK
"I've spent 28 years in financial services, most recently as the head of The CIT Group's US Retail Finance division and formerly as Senior Vice President and Eastern US Manager of KeyBank USA NA. I'm at least smart enough to realize, however, that my background does not make me an expert in the acquisition of "a good business at a great price", as you put it. The time you spent walking me through the Letter of Intent alone was worth the price of the course. It's just great!" Rob Lewis - Cincinnati, OH
"Thank you for your book! It has been a tremendous help to us and given us the tools to go ahead and make an offer on a business." Denise Kurtz - Cohutta, GA
**********************************