Here's The Bad News If You're Planning On Buying A Business:
According to industry statistics,over 90% of the people who begin the search to buy a business fail to ever complete a purchase. Even worse, the average person looks at business for sale listings for 18 months and still, they never buy one.
Part of the problem is that most businesses listed for sale are overpriced and have plenty of problems. Buying a business is a major undertaking. There's a lot at stake. This is one decision you must get right the first time. If not, the consequences will be enormous!
Why so many failures? There were several common reasons given by those who failed to realize their dream of business ownership, or worse, ended up buying a bad business. Most were first-time buyers and they admitted to having totally underestimated just how much was involved with each stage of the buying process. They felt overwhelmed and ill-equipped to handle all of the new situations and major decisions they encountered.
If you're going to buy a business, the old expression - "If you fail to prepare then be prepared to fail" - is so true.
The business you buy will determine your financial future: When you buy a good one the rewards will be incredible! But don't take anything for granted. You cannot guess your way to success. It takes "know how" to be successful in this endeavor. When you have the right information, it's easy to make good decisions. But without the knowledge, you'll end up with a huge financial mess!
There is some good news: 82% of the people who follow our program and use our free ongoing consulting buy the right business within six months. You'll soon read some of their incredible stories.
Before you invest your savings to buy a business, shouldn't you first learn how to buy the right one?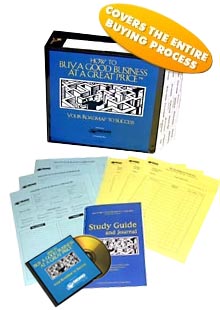 "Everything You Must Know
Before You Buy A Business."
How To Buy A Good Business At A Great Price© is "the mostly widely used strategy guide for buying a business." This is not a simple generic introductory book on the subject. It combines critical knowledge and proven strategies for each stage of the process and every situation you'll encounter, along with expert ongoing consulting.
If you're serious about buying a business, and especially if you've never bought one before, you've arrived at this website because you want to have the right information and access to unbiased, expert advice to make the right decision.
How To Buy A Good Business At A Great Price© is based upon countless business investigations and successful transactions in every field including manufacturing, retail, a huge array of service sector companies, the food industry and wholesale and distribution businesses.
The material contains over 500 pages of easy to follow strategies, legal agreements, interactive resources, sample letters, case studies, financial spreadsheets, worksheets, and business plan templates.
Written by renowned expert Richard Parker, who has personally purchased eleven businesses and is recognized as "the small business acquisition authority".
Along with the program you'll consult directly with Richard and a team of experts as often as you wish during the process.
You Also Receive Ongoing Professional Advice
To Help You At Each Step Along The Way
We don't send you a pile of information then leave you on your own to figure it out.
Once you begin to follow our proven program, you will be automatically enrolled in our Personalized Consulting Program. With this service you will have immediate and unlimited access to a team of business buying specialists to help you with any questions, situations or challenges you encounter.
If you need some assistance or advice in reviewing a listing, formulating an offer, negotiating a certain part of the deal, investigating or valuing a particular business, reviewing the financials, or if you simply want an unbiased expert opinion about a particular situation where you're not positive what strategy to use, we will immediately provide you with our experienced input and expert assessment.
There is no cost for you to use this service and you can use it as often as you wish.
Whenever you need help, just contact us, outline the situation, and let us know if you prefer an email response or phone call. All inquiries are handled with 24 hours.

Our Only Goal Is To Help You Buy A Good Business
Use the proven strategies laid out in our guide along with our consulting support. If you are not thrilled with our program we will immediately refund your money – no questions asked.
If you have any questions about our program or need any assistance with buying a business, feel free to contact me directly by email.
I look forward to helping you.
Sincerely,



Richard Parker
Diomo Corporation - The Business Buyer Resource Center™